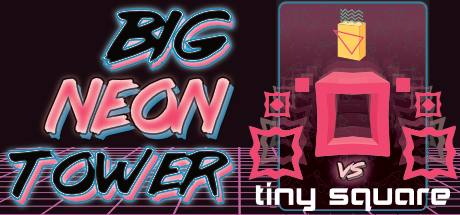 Big NEON Tower VS Tiny Square
New Tower. Old Enemy. Ride the vaporwaves and avoid the neon nusiences in the 3rd instalment of the Big Tower Tiny Square series played by MILLIONS across the web!
Inspired by 90s arcades, the Big NEON Tower is one giant level broken up into large single-screen sections. Each obstacle has been meticulously placed. Each section devilishly designed. It will take patience and skill to navigate the maze-like tower. Precision is key to success!
HTML5 Version: The free web version gives you 100 lives per play-through. To play a version with unlimited lives, please purchase the game from here on itch (or any of the links to Steam, iOS, or Android). Your support is greatly appreciated!
DRM-Free Download: You can purchase a windows version right here off itch. It is DRM-free and gives you access to 32 bit, 64 bit, and ARM versions for Windows.
Come chat about the game in our Discord: https://discord.gg/89bTXwhv
Controls:
Menu UI: A/W or Arrow Keys to move, space to select. Click or touch UI on mobile.
Keyboard: Move with Arrow Keys or A D | Jump: Space Bar or Up Arrow or Z or W | Y to restart at last checkpoint | ESC for Menu
Controller: Joystick to move | A to jump | Y to restart at last checkpoint | Start for menu
Mobile: Move with touch buttons on left side of screen | Jump with touch button on right | Tap top of screen for main menu
Troubleshooting:
Game is choppy/low FPS: Toggle the PERFORMANCE button in options for smoother gameplay. (Defaulted On for mobile)
Too zoomed out: Toggle the ZOOM button in options for a zoomed in view on the player. (Defaulted On for mobile)
Can't start: Highlight the start button with A/D and press space (Keyboard) or Joystick and A button (Controller) or click Start. On mobile just touch the start button.
Stuck? Here's a walkthrough with developer commentary:
Purchase
In order to download this game you must purchase it at or above the minimum price of $5 USD. You will get access to the following files:
BigNEONTowerTinySquare.zip
36 MB
Also available on